"Dog Birthday Cake" is one of the most creative ideas in this world! Your pet also has a birthday that he was born! So why don't you make him a really impressive day? There are a lot of ways to celebrate this really special day such as hold a party, cook delicious dishes… And the most beautiful way is making him a cake – by yourself!
Someone may not know how to make a cake for Dog. Don't worry, we have collected some recipes of Dog Birthday Cake for you! So now have a look!
1 – Peanut Butter Delight Dog Birthday Cake:
Ingredients
1 cup white or whole wheat flour
1 tsp baking soda
1/4 cup peanut butter
1/4 cup vegetable oil
1 cup shredded carrots
1 tsp vanilla
1/3 cup honey
1 egg
Directions:
Preheat oven to 350°F (180°C).
Mix together flour and baking soda. Add remaining ingredients and mix well. Pour into a small round pan and bake for 25-30 minutes.
Frosting:
8 oz cream cheese
1 container of baby food bananas*
1 tsp cinnamon
Mix ingredients together and use to frost cake.
*You can also use 1 or 2 fresh banana's, but I prefer the ease of the baby food over trying to buy bananas at the perfect ripeness
2 – Pup cake: the cupcake for dogs – The Dog Birthday Cake

Ingredients
1/2 c whole wheat flour
1/2 tsp baking powder
2 tbsp peanut butter
2 tbsp applesauce
1/2 tsp vanilla extract
2 tbsp honey
1 egg
1 tbsp water
1/2 c shredded carrot
toppings
plain greek yogurt
carrot shreds
dog treats
Directions
Preheat the oven to 350F
Shred your carrot first.  one medium-sized carrot should give you a bit more than the 1/2 cup you need for the recipe so you have some left over for decorating.
Mix together the flour and baking powder, then add the peanut butter, applesauce, vanilla, honey, egg and water, and mix in evenly.  add the carrot shreds last and loosely fold in, the texture should be slightly liquidy but still fairly thick.
Fill 5-6 cupcake liners about 2/3rds full of batter and bake for 15-20 minutes (or until a toothpick comes out of the middle clean.)  let cool thoroughly before serving to any pups, you can even make them ahead of time since let's face it, dogs don't really care if food is stale.  and make sure to remove the paper liner before they really dig in.
3 – Banana Carob Oat Cake with Peanut Butter Frosting – The Dog Birthday Cake

Ingredients
2 ripe bananas, mashed
4 tbsp honey
1 egg
2 cups water
3 cups whole wheat flour
1/2 tbsp baking powder
1 cup rolled oats
1/2 cup carob chips
1 cup peanut butter
Directions
Preheat the oven to 350 degrees F. Using nonstick spray, coat an 8-inch cake pan and set aside.
In a bowl, mix the bananas, 3 tablespoons honey, egg, and water together until combined. Then stir in the flour, baking powder, and oats. Pour the batter into the prepared pan and sprinkle the carob chips on top. Use a fork to lightly mix in the carob chips in a marbling fashion; the chips should be slightly visible on the surface.
Bake the cake for 1 hour. Check and bake for an additional 15 minutes if you insert a toothpick and it does not come out clean. Allow the cake to cool in the pan for 30 minutes before transferring to a rack to cool completely.
As the cake is cooling on the rack, mix the peanut butter and remaining honey in a bowl until thoroughly incorporated to create the frosting. Using a spoon or spatula, spread the peanut butter frosting over the cake.
4 – Pumpkin-peanut-butter dog birthday cake

Ingredients
1 cup flour
1 egg
1/3 cup peanut butter (natural, lower-sugar varieties are better)
2/3 cup pure pumpkin puree (NOT pumpkin-pie mix as that has sugar and other ingredients in it)
1/2 teaspoon baking soda
1/3 cup vegetable oil
1/2 cup water
Frosting:
2 tablespoons cream cheese
2/3 cup pumpkin puree
Directions
Mix all cake ingredients. Bake in a small, greased and floured pan (I used two 6-inch ramekins—a small round pan or a small loaf pan would probably be good, too) at 350 degrees for about 15 to 20 minutes or until a toothpick comes out clean. Let cool. Meanwhile, mix frosting ingredients. Frost when the cake is completely cool. Serve to the pups … or perhaps to a human who you aren't particularly fond of.
5 – Grain-Free Mini Dog Birthday Cake

Ingredients
Cake:
4 cups chickpea flour
2 teaspoons baking soda
1 cup natural creamy peanut butter (stir to incorporate any oil on top)
1/4 cup honey
6 tablespoons melted coconut oil (plus a teaspoon more for the baking sheet)
4 large eggs
1 cup water
2 cups shredded apples (about 4 apples, peeled)
Frosting:
1 cup Greek yogurt
2 tablespoons honey
Topping:
1 tablespoon unsweetened shredded coconut
Directions
To make the cake: Preheat the oven to 325 degrees F. Line a 1-inch rimmed baking sheet (13 x 18 x 1 inches) with parchment paper. Brush the parchment and sides of the baking sheet with about a teaspoon of coconut oil or spray with cooking spray. Set aside.
In a large bowl, whisk together the flour and baking soda. Add the peanut butter, honey, oil, eggs, and water. Mix until completely combined and then fold in the shredded apples. Pour the dough onto the lined baking sheet and spread it out into one even layer. A spatula is pretty handy.
Transfer to the oven to bake for 15 to 17 minutes, or until the top is lightly golden brown and springs back when touched.
To make the frosting: In a medium bowl, whisk together the Greek yogurt and honey.
To toast the coconut: Add to a small skillet, set over medium-low heat, cook until lightly golden brown, moving the pan every now and then to ensure even toasting.
To assemble the cakes: Using a 4-inch round cutter, stamp out a series of small cakes. I got about 12 from my baking sheet. (Save the scraps for treats! Should be good for 1 week when putting into a Ziplock bag and stored in the fridge.) Stack the cakes in threes or twos. Top with a dollop of "frosting" and a sprinkling of coconut flakes. Insert candles and party on!
6 – Grain-Free Peanut Butter Apple Dog Birthday Cake

Ingredients
1 egg
3 Tablespoons peanut butter
1/2 apple, finely chopped
1/2 teaspoon baking powder
Instructions
Preheat oven to 350*.
Mix all ingredients together until smooth.
Grease a ramekin or a jumbo muffin tin. Fill with batter.
Bake for 20 minutes, or until golden and a toothpick comes out clean.
Let cool for a couple minutes, and then slide the cake out of the baking container. Cool on a cooling rack for 5 minutes before serving to your dog.
You may frost with extra peanut butter if desired.
7 – Mini Dog Birthday Cake

INGREDIENTS
¼ cup peanut butter
1 cup all-purpose flour
¼ cup coconut oil, melted
1 egg
⅓ cup honey (preferably raw)
¼ cup canned pumpkin
1 tsp baking soda
¼ cup applesauce
1 tsp vanilla extract
Icing:
½ cup plain Greek yogurt*
¼ cup peanut butter
INSTRUCTIONS
Preheat oven to 350°.
Grease two 4″ cake pans with a bit of coconut oil and set aside.
In a large bowl, combine flour and baking soda; set aside.
Melt coconut oil in a saucepan over low-medium heat.
While coconut oil is melting, whisk egg, honey, pumpkin, applesauce, peanut butter, and vanilla together in a large bowl using an electric mixer. Last, stir in the melted coconut oil.
Fold the wet ingredients into the dry and stir to combine.
Pour batter evenly into the two pans, pounding them on the countertop a few times to the batter lays flat. Place the cake pans on a baking sheet and the baking sheet in the oven.
Bake cakes for 20-30 minutes**, or until a toothpick comes out clean or mostly clean.
Let the cakes sit in the pans for 10 minutes before running a knife along the edges and flipping them over onto a cooling rack. Wait until cakes are completely cool before icing.
For the icing: stir yogurt and peanut butter together
Assembly slice the tops of both cakes off (the "dome" part) and then lay the cut edges together, placing a bit of icing in between. Top the cake with additional icing. Additionally, if you want to cover the entire cake with icing (rather than just the top and middle), just double the icing ingredients.
Top the cake with cheese to make your pup's special day that much better!
8 – Coconut Honey Dog Birthday Cake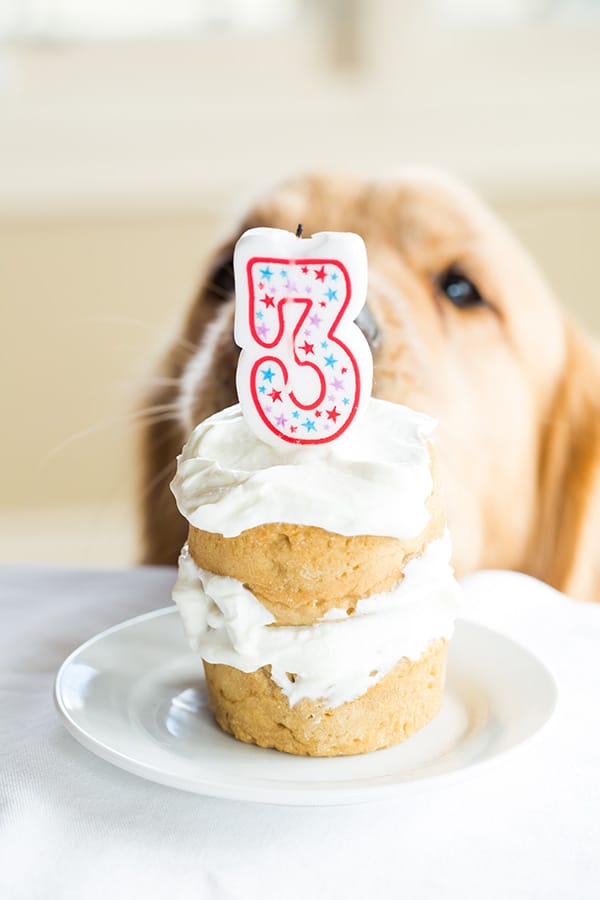 INGREDIENTS:
3 tablespoons refined coconut oil, melted
2 tablespoons honey
3 eggs
1¾ cup (248 grams) all-purpose flour
Yogurt, for frosting
DIRECTIONS:
Preheat oven to 350 degrees F. Grease two 7-ounce ramekins; set aside.
In a medium bowl, whisk together the melted coconut oil, honey, and eggs. Stir in the flour until totally absorbed.
Divide the batter between the two ramekins and bake until lightly browned and firm when pressed in the center, 15 to 20 minutes.
Cool in the ramekins, then remove them and fill and frost with plain yogurt. Serve!
9 – DOG BIRTHDAY CAKE RECIPE

Ingredients:
Round mini baking tins (we used two of these 4″x1.25″ baking tins)
1 pound organic ground beef
1 organic egg
1/2 cup fresh or frozen peas, plus more for decorating
1/4 cup rolled oats
1/4 cup shredded cheese
Large potato (white or sweet variety)
Directions
Mary found a 3 pack of mini 4″x1.25″ round baking tins (like these

), perfect for making individual tarts and cakes that we used for this project, but any small baking tins will do. We originally planned to stack 3 layers to make the cake, but quickly realized two would be plenty when they came out of the oven (and it was close to lunch, so we ate that 3rd patty instead).
Preheat oven to 350 degrees. Peel, chop and lay potato into a saucepan. Cover with water, bringing to a boil, then reducing heat to cook until fork tender, about 20 minutes. These will later be mashed and used as the cake's "frosting."
While oven is preheating and potatoes are boiling, combine remaining ingredients in a mixing bowl, as if you were making a meatloaf. Divide mixture among greased baking tins, flattening the surface.
Once cooked, remove meat tins from oven and allow to cool along with the mashed potatoes. Now we're ready to assemble and frost this canine cake — and it's gonna get a little messy before it gets pretty…
Spoon and shape mashed potatoes between and over two of the meat cakes to cover. Make sure to get a thick layer in between the two cakes to get the look of a frosted center. Once completely covered, smooth with the back of the spoon to get a rough and rustic frosted look. Let's be honest, your dog won't care if it doesn't look perfect.
10 – Pumpkin Banana Dog Cupcakes

Ingredients
1 cup oat flour
1 teaspoon baking powder
1 teaspoon cinnamon
1/4 teaspoon baking soda
1 egg
1/4 cup honey
8 ounces pumpkin puree
1 1/2 bananas, mashed
8 ounces light cream cheese
2 tablespoons peanut butter
1 tablespoon honey
Instructions
Preheat oven to 350 degrees. Place mini cupcake papers in a mini muffin tin and set aside.
Combine the first 8 ingredients until mixed thoroughly.
Using a small dish or cookie scoop, place batter in the muffin tin near the top of the papers (batter will not rise much).
Bake about 12 minutes, or until toothpick comes out clean when inserted into the center of the cupcake.
Cool on a wire rack before frosting.
For the frosting, beat softened cream cheese on medium-high until fluffy.
Add in the remaining ingredients and mix until combined.
The Dog Birthday Cake will bring your dear puppy a really Happy Birthday, I guess! He may be the luckiest guy because he has the best owner in this world!
Cre: www.stylesweetca.com