Happy Birthday Poems are also awesome and these could replace Birthday wishes for someone's special day. So instead of sending them a Birthday message, why don't you search for some nice meaning Poems and send them on their Birthday? Because sometimes, a Poem could tell more things than a simple message or wishes could do. That's why Birthday Poems are a kind of popular way to celebrate someone's Birthday. Don't you think this idea is really cool and lovely? The one who receives this special message must be so happy and excited, I think so!
To help you find the suitable Birthday poem easily, we have listed some Poems that is for the specific person. So let's have a look!
Birthday Poems for her
1. Happy Birthday my angel!
My angel descended on a day like this,
the heavens cried for what they would miss,
as you are an angel like no other,
a beauty inside and out.
I was lucky to have found you first,
and even luckier as we fell in love.
Laughter crackled with your mirth,
and you made me the happiest man on earth.
One fine day, as we tied the knot,
I pledged to keep you safe and sound and
to always resist our every strife.
for you are the best and sweetest wife!
Happy Birthday my angel!

2. May this birthday be the best day of your life!
Holding your hand warms my heart.
Kissing your lips ignites my soul.
Making a promise, never to depart,
I rely on you, to make me whole.
Another year, and another birthday,
an additional candle lights up the cake.
Need not to count those candles today,
So just enjoy the glow they make!
May this birthday be the best day of your life!
Happy birthday poems for him
1. Happy birthday, my boy!
There is no greater satisfaction than basking in our attraction
And There is no greater happiness than to look at you and experience breathlessness
There is no greater pleasure Than to cherish our love's treasure
And There is no greater joy Than to call you my boy
Happy birthday!

2. Everything seems so perfect and nice!
Everything seems so perfect and nice
Since we started dating, I haven't seen a low
My life right now seems like a bright sunny sky
Highlighted with lovely hues and a beautiful rainbow
The love is beautiful, the romance is tingling
And the passion is sizzling, the reason is YOU
This is all I wanted to say on your birthday
I hope that you feel the same way too
Birthday poems for friendship
1. I wish you the brightest future…
I wish you the brightest future
And all that it can bring,
May every day be full of fun,
Joyful moments and most special things!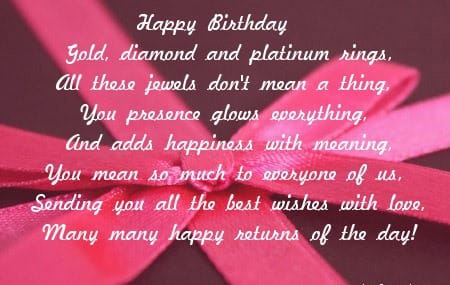 2. It's official – you've lived one more year…
It's official – you've lived one more year,
You're birthday gifted and caked,
But don't think you're fully mature,
Because you're really only half-baked!
Happy Birthday poems for daughter

Light of my soul
Glow on my face
Joy of my life
Essence of my grace
Peace of my mind
Cheer in my demeanor
Is only because
Of my dearest daughter
Happy birthday
Birthday poems for son
For my Son on his birthday:
I wish you strength to face life's challenges;
Knowledge to achieve your desired successes;
Hope to get back up when life knocks you down;
Good family and friends to share your accomplishments with;
New adventures to greet you at every turn;
And love to fill your heart so big there is no room for negativity.
Happy Birthday to the greatest gift I have ever received. I love you, my sweet boy.

Happy Birthday poems for husband
An awesome husband like you…
An awesome husband like you
Is rare and uncommon
A perfect husband like you
Can be only one
An amazing husband like you
Is unique and exclusive
A wonderful husband like you
Makes life fun to live
To such a husband who is
Perfect in every way
With lots of love I wish
A fabulous birthday

Birthday poems for wife
Cute Happy Birthday Poems For Wife
Happy birthday to my darling wife,
who has become the center of my life,
I always love when this day is here,
As it's another reason to hold you near,
another moment for special embraces,
Another reminder of your good graces,
another day to love you more,
and another day to thank god for!
May this day bring fond memories,
that would last life long!
I love you my love, one and only.

Happy Birthday poems for mom
1. I Celebrate Your Life
Mom, your birthday means so much to me;
To have you in my life another year,
The time I spent enfolded in your love,
Each day, each moment with you is so dear.
I cherish the very special bond we have.
You lift my spirit in so many ways.
I celebrate your life; I honor you,
And send to you my love and care and praise.
By Joanna Fuchs
2. Walking Sunshine
Dear Mother, I love you and want you to know,
I think of you often wherever I go.
You lift me up; you're like walking sunshine;
I am lucky to have a great mother like mine.
Your endless affection makes you special and rare;
I'm always amazed by how much you care.
What you've given to me I can never repay,
Thank you, Mom, on your (40th, 52nd, etc.) birthday.
By Joanna Fuchs
Birthday poems for dad
1. Especially For You Dad
Because this is a special day
This wish is special too.
May you enjoy a perfect day
in every way, for you.
**
Thoughts of you are always warm
and filled with so much pride.
With all the loving memories
to cherish deep inside.
This card brings many wishes
much more, than words could say.
For you deserve the very best
today and every day.
**

2. Happy Birthday Dad
There can't be anybody who
is thought of more than you.
Or considered more deserving
of good wishes, warm and true.
This card is sent with love to
bring you happiness and cheer.
To celebrate your birthday
the best day of the year.
**
Loving and giving is my Dad
He'll go that extra mile.
Without ever complaining
on his face, always a smile.
You know, I feel so lucky
having a wonderful dad, it's true
So now it is your birthday
I send loving wishes to you!
Happy Birthday Dad
Happy Birthday poems for sister

A Sis like you in life
I don't need anyone in life
When you are there beside me
I do not need anyone in life
When I have your loving company
I do not need anyone in life
When sis I have you in my life
My reason for smile all the way
And my strength to have my say
This is a lovely sister that I have in you
Yes you are truly one in few
A loving sister like you
Wishing a happy birthday to you!
Birthday poems for brother
Thoughts of his warm unpretentious smile set her heart aglow,
like candlelight illuminating softness on an amber parchment folio.
Once again,
Playful, brown, and shadowy eyes peeked
back over shouldered time and winked:
She lost all sense of present mind and drifted slowly
into nineteen hundred fifty-three.
Boyish fingers squirmed desperate to be freed-
In a snap, they slipped far away from sisters' abandoned hand.
"Walk, don't run," she shouted to the intrepid lad, wearing itchy feet-
it seemed to her as if they were charged with mystic energy!
En route to wanderlust, a precocious child mocked impending destiny:
little cowboy mounted on a brightly painted horse soon hit the manhood trail;
silver cap guns tumbled from his tiny-holstered waist
Cut-off blue jeans and dark loose hair escorted a rebellious teen
chasing vanished heroes on loud tumultuous streets.

Vietnam wove a khaki suit on his young man frame; stark handsomeness enhanced
as he thrashed inside a jungle maze and warred valiantly against maturity.
It gashed the soldiers wounded soul; boyhood surrendered reluctantly,
and roamed for years to come, in quest of revival in a mid-life man.
Brightly colored ribbons swayed on a polished robe of black:
dazzled all those in attendance with its grand display!
The college professor flashed a boyish grin her way and marched forward
to receive gold medallion wins.
Sturdy fingers firmly grip a master story writers' pen:
callused tips brush fluid memoirs spilling from a brilliant inner man,
like graceful wax dissolving off a blazing candlewick.
Recently, he used to her, "Our past is never really past at all!"
Soulful, brown, and tender eyes kissed sisters' aging face and winked.
Secretly she pondered: "Should I let him know?
Within my heart, within my mind, and my very soul:
I'm still holding…
my brothers' restless little hand."
Happy Birthday poems for grandma
Happy Birthday, Grandma
It's your special day
You show us how you love us
In so many ways
You make us feel like stars
And our biggest fan
You cheer and clap the loudest
When we do the best we can
You're always up for fun
And ready for us to laugh
Crazy games of dominoes and spoons
Are always a good time with Grandma
You make us feel special with lots of hugs and treats
Like we're the most important in the world
We think you're very sweet.
Birthday poems for niece
You may be your mother's
First priority
You may be your dad's
Foremost responsibility
You may be the darling
Of your dearest uncle
To your grandparents
You may be very special
But to me, my dear niece
You are the only one
In this whole wide world
Who is my favorite person
Happy birthday
Happy Birthday poems for nephew
I really love the role
Of being an uncle
It makes my life a lot more
Worthwhile and special
Being with my nephew
Is what I love a lot
It eases stress and tension
With which my life is fraught
From every worry in the world
He makes me feel carefree
Wishing a happy birthday
To my coolest buddy.