Please use Happy Belated Birthday Wishes and Meme to send to someone when you just forgot their birthday. They will be happy to receive your belated wishes.
Birthday is a special occasion of each person. On this day, people will receive wishes and presents which make them happy and feel loved! So don't forget someone's Birthday, this will make them sad.
However, sometimes, for some reasons, you cannot give your relative that you love Birthday wishes (or presents) on time. But you still want to send them Birthday greetings, what should you do? An apology? This will make the situation more serious. A normal Birthday greeting? This could make your friend angry! Then what should you do?
Don't worry! We will give you some tips to solve this problem. But remember, Sincerity is the most important thing if you want to send some one the Happy Belated Birthday messages!
Here are Top Happy Belated Birthday Wishes, Meme, and Images which are really useful.
Happy Belated Birthday Wishes
1. Hope your Birthday was happy and totally great. Happy Belated Birthday!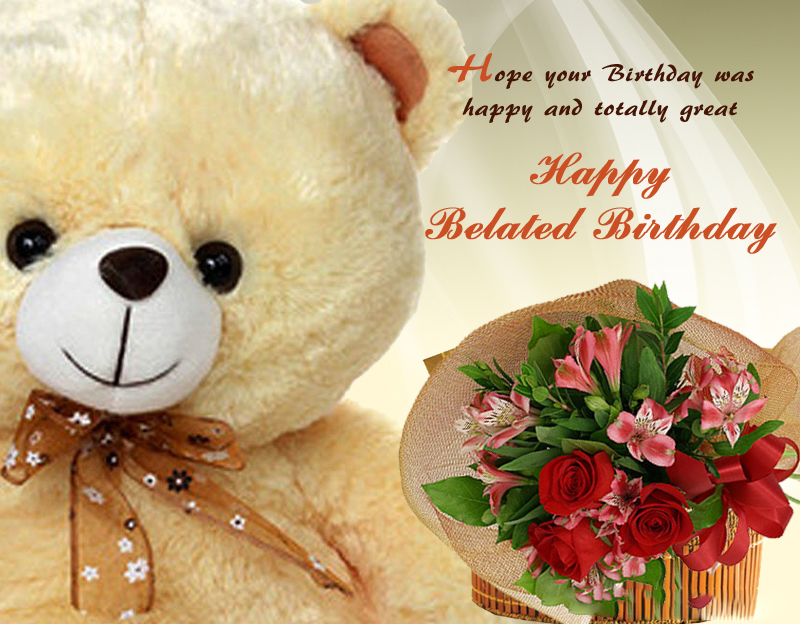 I have missed my friend's Birthday. But it doesn't mean I don't care about you. Dear, I just want you to remember clearly my wishes for you. Wish you a lovely, happy and lucky life!
2. A belated birthday wish that your life will continue to be filled with the happiness you deserve!

Even though your birthday ended, I still want to keep this special moment. That's why my Birthday greeting comes late! Happy Birthday!
3. A little late I must confess. But I do hope you had an awesome day. Happy Birthday!

Sorry for my late Birthday messages for you. But it isn't because I forgot! It's because I care you more than any one, that's why I want you to have 2 Birthday! Wish you beauty and health. Happy Belated Birthday!
4. The big warm hug to make up for the late wish. Happy Belated Birthday!

One more birthday, dear friend. You have received a lot of wishes and presents yesterday, haven't you? Today, I want to celebrate a Birthday for you, a special Birthday ever. Wish you all the best thing. Happy birthday!
5. Sorry I missed your Birthday, hope your day was really special!

So sorry, my dear. I will give you a bigger birthday, to show how special you are. Happy belated Birthday!
6. Hope your Birthday was happy! Happy Belated Birthday!

I really hope that your Birthday was really nice and lovely. Happy Belated Birthday!
7. I didn't forget your Birthday, just wanted to give to time to digest the fact that you are year older. Happy Belated Birthday

You are older now. Sorry for missing your special day. I hope you don't mind me. Happy Belated Birthday!
8. Better late than never? Hope you had the happiest birthday ever!

Late is better than not coming. Wish you this birthday was hopeful and happy!
9. Happy Belated Birthday! Have a year filled with Happiness and Love!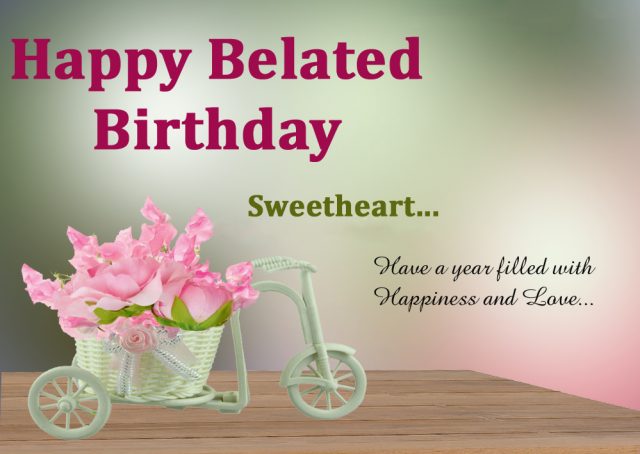 Even though now is late for your birthday, I still wish you not only your birthday but also another day will always lucky and happy!
10. This Birthday wish although delayed is warmly and sincerely made. Happy Belated Birthday!

Happy Belated Birthday Meme
1. Awesome Belated Birthday Meme

Wow, A lovely dog represents his owner to explain why he is late for your Birthday. How can you keep angry?
2. Cute Meme

A sleepy cat? So cute! But maybe this is the main reason why your friend didn't come your birthday. Does this cat release your mad?
3. Funny Happy Belated Birthday Meme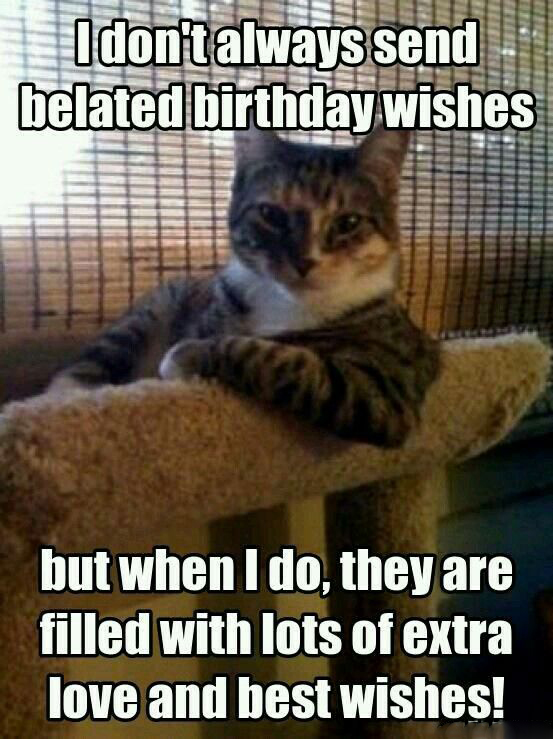 This cat is like a boss. What do you think when a boss come and apologize for his not coming to your Birthday? And he also wishes you a lot of sweet things?
4. Greatest Happy Belated Birthday Meme

A sincere apology. How can you still mad at this?
5. Innocent Belated Meme

Sometimes, innocent and honest sayings will release all the anger. Try this Meme to send your relative a Birthday Belated Wishes!
6. Interesting Belated Birthday Meme

Batman? So interesting! And this will affect effectively on someone who is keen on comics!
7. Lovely Happy Belated Birthday Meme

Turtle means you are so slow and you have tried to come! Your friend will understand and forgive you. Don't forget to give more wishes for them!
8. Pinky Meme

A man in pink? This will make your friend laugh and forget to be mad at you, especially if your friend is a humor person.
9. Serious Belated Birthday Meme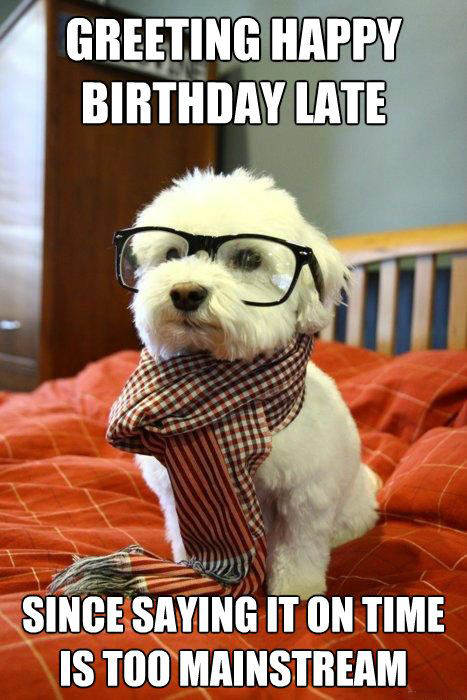 Serious and Sincere. Your friend will happily receive your belated birthday greetings, I guess.
10. Surprising Happy Belated Birthday Meme

"Don't know" means they are innocent. Why must you angry at an innocent person just because he (or she) didn't know your birthday? You should be happy because when they knew, they tried to wishing you a lot of nice things!
Happy Belated Birthday Images
1. Awesome images

An awesome birthday image will surprise your relative when they think you have forgotten their Birthday. So try this to apologize and wish them a Happy Birthday!
2. Brilliant happy belated birthday images

This image could be used as a banner in the house to celebrate a Belated Birthday for your relative.
3. Belated birthday cards

If you are late for someone's birthday, give them a Happy Belated Birthday card like this within your wishes and messages. Late is better than not coming!
4. Happy belated birthday images and cakes

Your friend likes sweet cake? Why don't you try to make one and put this image on its side to tell someone that you haven't forgotten their birthday?
5. Belated birthday images and candles

Candle warms your relative's heart, especially when they know you still remember their special day. Prepare this image and give them within your wishes, even though these wishes is belated, but it is still meaning to them who receive!
6. Happy belated birthday and flower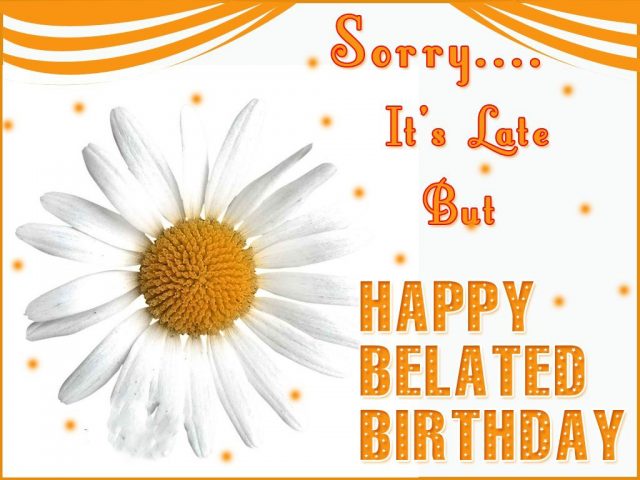 The flower is tender and lovely. How can your relative deny this cute Belated Birthday greeting?
7. Interesting birthday images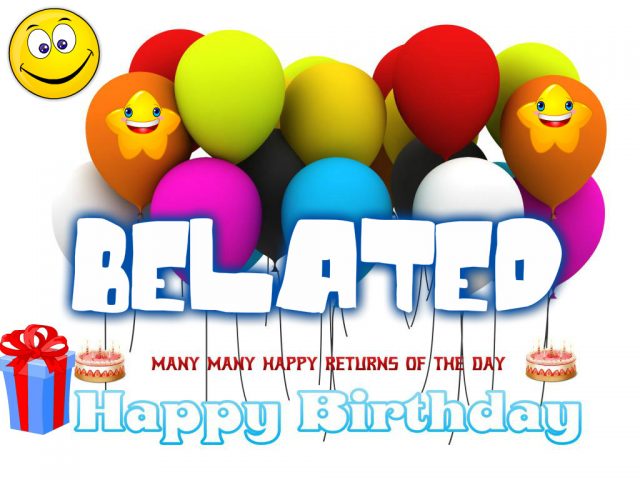 Even though you are late, but this banner will still make your friend happy because of its sincerity and brilliance!
8. Lovely belated birthday images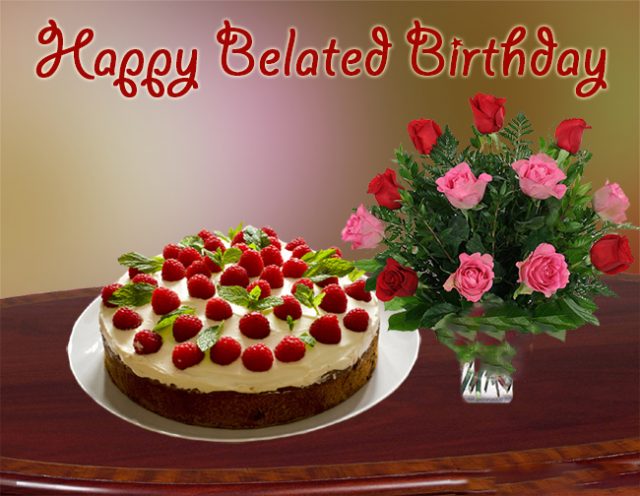 Are you a businessman and you have to do a lot of work? Can't you come and celebrate your love's birthday? This romantic way will release her angry and sometimes, this could even make her love you more.
9. Twinkle happy belated birthday

Presents and wishes will still come although they are late. But who cares? Your relative still know you care about them!
10. white – rose Happy belated birthday images

Rose represents love and belief. In this situation, it represents a sweet apology. Your love can't deny this sincere Happy Belated Birthday, I think so!
Funny Happy Belated Birthday
1. Amazing belated birthday

Duck is so cute and funny. This could make your friend happier than any wishes. Why don't you try?
2. Awesome happy belated birthday

Teddy is still a big love to many people. If your relative is one of those, this funny images and your wishes will be strongly effectively.
3. Cute and Funny happy belated birthday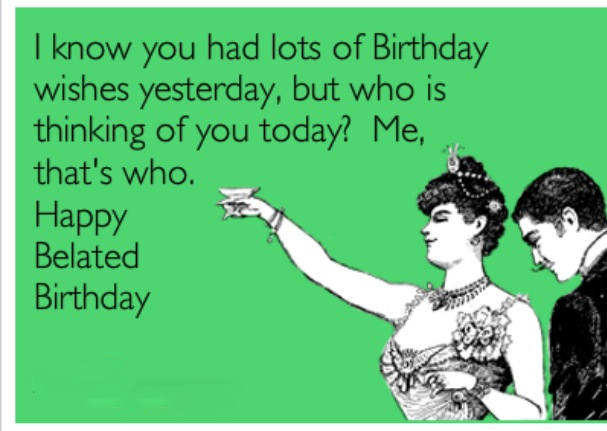 Yes, only you think of your friend when their birthday has gone. This time you could show how much important they are to you!
4. Fabulous belated birthday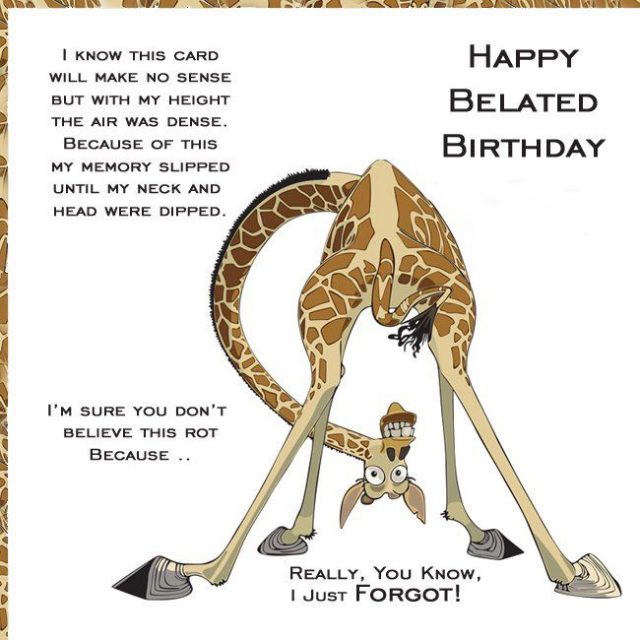 Wow, A cool Birthday Belated card! Can you imagine how your relative will be when they receive this? Excited!
5. The greatest belated birthday

Who loves baby? Everyone loves baby. He is cute and innocent. Then so is this card. It will make your friend relax and happy!
6. Funny happy belated birthday  and bees

A lot of bees. They are trying their best to come to a special person's Birthday. So You Are. Tell someone this thing, he (or she) will stop mad at you. But remember to prepare a big gift for them. This is more effective!
7. Interesting happy belated birthday

Yes, you didn't forget. You are just preparing some special things for your friend's Birthday. So why must they be angry at this lovely idea?
8. Lovely funny belated birthday

You don't even know your relative's birthday if Facebook doesn't remind you! That's not your fault. But next year try to note their this special day. It's good for your relationship!
9. Nice happy belated birthday

A sincere promise will solve all!
10. Sweet belated birthday

So sweet, right? You are not older, so that's why I can't remember that you have come to the next-year-olds. But however, I wish you a Happy Birthday (Belated Birthday!)